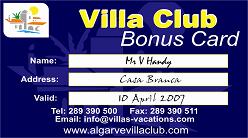 We want to welcome you to the privileged world of Villa Club Bonus Cardholders.
Keep It.....
Use It.....
Save Money.....
Relax...A whole range of pampering and energising treatments awaits you at the Villa Club Hair & Beauty Spa. Use your villa Club Bonus Card to receive special offers and reduced rates on a variety of products and therapies.
Enjoy...There are so many fun activities on the Algarve for all the family. You can pre-book your park tickets at your Villa Club Reception. Show your Villa Club Card to receive preferential rates and advance tickets to the most popular days out around.
Play...Imagine it, preferred tee times on some of the most sought after and challenging golf courses in Europe. If that isn't enough, show your Villa Club Bonus Card at the time of booking at our Villa Club Reception and receive some superb discounts for green fees and equipment.
Taste...Some of the best and most popular restaurants participate in our Bonus Card Scheme. All of which are highly recommended by Villa Club as they are all tried and tested by our team! Show your card to receive discounts off your bill or a free bottle of house wine. (Offer is dependent on the participating restaurant, and may vary).
With all these discounts and special rates, you are sure to feel refreshed, happy and relaxed!
At Villa Club Tennis Centre there is a wide range of activities on offer at discount prices.
Spinning
Pilates and Yoga
5 A side Football
Tennis
Hair & Beauty
Keep Fit
Enjoy your holiday!
Please see the current edition of Central Algarve Magazine for an up-to-date list of participating local businesses. Contact the Villa Club on (00351) 289 390 500 for more information or to book tennis, golf, hair & beauty sessions, theme park tickets and much more.